Weston Medical Health Center has been helping patients live pain free and active lives since 2003. Our Founder and Chiropractor, Dr. Spoonhour, uses hands-on spinal manipulation, adjustments and spinal decompression therapy to bring your body's musculoskeletal structure into proper alignment.
The goal of our Chiropractic treatment program is to help the body  heal itself without surgery or medication. Weston Medical Health Center's Chiropractor and Team of Doctors use various treatments and modalities to restore mobility in joints, relieve pinched nerves, and rehabilitate injured muscles.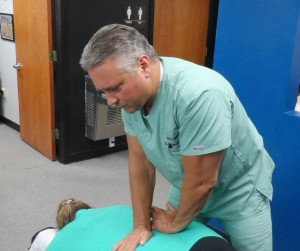 At Weston Medical Health Center our Chiropractic Doctor is complemented by our multidisciplinary health center, working in conjunction with other Pain Management, Physical Therapy and Therapeutic Programs for fast and lasting results. Weston Medical Health Center's Chiropractors are clinically trained to achieve proper musculoskeletal alignment to improve the bodies' functionality thus preventing future illnesses and conditions.
Weston Chiropractor and More:
Low back pain

Herniated disc

Degenerative Arthritis

Leg Pain

Sciatica

Numbness and or tingling down the legs.

Neck pain

Whiplash

Neck tightness

Stiff neck
Knee pain

Hand pain

Leg pain

Foot pain

Ankle pain

Sprained ankle

Tension Headaches

Migraine Headaches

Sinus Headaches

TMJ syndrome

Dizziness
Difficulty Concentrating

Fibromyalgia

Sleeping disorder

Scare tissue

Tennis elbow

Golfer's elbow

Carpal Tunnel

Low energy

Mood swings

Tension/nerves

Insomnia
Using a Chiropractor to Relieve Your Back Pain
Around 80% of Americans are affected by back pain at some time in their life, the reason for back pain can be related to many different internal and external factors, nerve and spine destruction from accidents can start up strains and injuries leading to chronic back pain symptoms. Spinal misalignment, as a result of weight gain, poor posture, repetitive movement, and deterioration of bones can also lead to back pain. Once the spinal tissues are exasperated, the muscles begin a splinting process and lock down the spinal joints. This splinting creates spinal joint dysfunction, swelling and inflammation. Read this article on about How a Chiropractor Can Help Relieve Your Back Pain to learn more.